Mass Effect 4 Video Reveals New Hero, Mako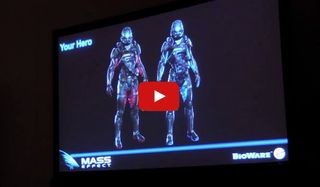 BioWare showed off Mass Effect 4 at a panel discussion last week at Comic-Con 2014. Today the video of that panel was released, giving us further insight into the series' new chapter.
At the beginning of the video, BioWare discusses the main character of Mass Effect 4. The character is wearing N7 armor, an indication that they're a human special forces member. Their suit has a glass helmet to allow them to explore hostile environments on foot. It also enables them to hold conversations without removing their helmet. The glass is fully tinted right now because the development team's not ready to show off faces just yet.
The suit is composed of several parts. There's a cloth-based underarmor with armor pieces attached on top. This design keeps the hero protected while also giving them a free range of motion.
BioWare showed off both male and female versions of the suit. The male version had some sort of bandolier attached to the front. That bandolier is one of the customization options the team is considering for gameplay. Presumably this addon gives you a boost to your maximum ammo. It's cool that these items will show up on your person to further individualize your character.
The next part of the video is devoted to the Mako. player's personal vehicle. The Mako was an armored personnel carrier used in Mass Effect to explore the rugged terrain of various planets and annihilate any hostiles in its path. It was missing from the second and third installments of the series.
While Mass Effect 4's vehicle is also called a Mako, it has an entirely different design. The new vehicle looks like a six-wheeled buggy.
"It's really agile, it's much different than the one you've seen before," said one of the team members during the presentation. "There's no cannon on it. There's no - well, maybe it can hover, maybe it can jump. I don't know."
BioWare even showed off some footage of the Mako in action - the closest thing we've seen to gameplay footage so far. The prototype video shows the new Mako driving across a snowy, mountainous world. The visuals are rough but what's really apparent is how nimble this vehicle is. It's fast and can turn on a dime. The footage closed with the Mako hitting an incline and leaping through the air. It looks like planetary exploration's going to be less of a chore in Mass Effect 4 than it was in the first game.
Many important details about Mass Effect 4, including its title, are still unknown. I'm pleased to see BioWare sharing something about the game, though. I hope this is a sign that a full announcement of the game is close.
Staff Writer at CinemaBlend.
Your Daily Blend of Entertainment News
Thank you for signing up to CinemaBlend. You will receive a verification email shortly.
There was a problem. Please refresh the page and try again.