Medal Of Honor 8-Disc Limited Edition Soundtrack Collection Released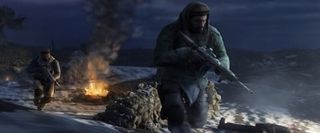 Electronic Arts and LA-LA Land Records announced today that a massive 8-disc limited edition soundtrack collection has been released, spanning the long-running franchise created by none other than Steven Spielberg. And yes, the collection also includes the unbelievably intense soundtrack from the newest reboot of the franchise, Medal of Honor.
As stated in the press release…
From the past Medal of Honor games I played I never really paid attention to the music, and I feel somewhat bad because Michael Giacchino has done some amazing work, especially on Lost and the Pixar flick Up. However, with the newest game I can't help but comment on how intense Djawadi's soundtrack was and how it completely kicked butt. I hope they keep this guy for the next game.
You can pick up the 8-disc collection, which is currently available. You can learn more about the Medal of Honor soundtracks over at the Official LA-LA Land Website.
Staff Writer at CinemaBlend.
Your Daily Blend of Entertainment News
Thank you for signing up to CinemaBlend. You will receive a verification email shortly.
There was a problem. Please refresh the page and try again.