Men In Black Video Game Arriving In 2012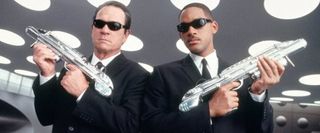 Activision announced that they're working with Columbia Pictures to create a new Men in Black video game. The standalone game will arrive in Spring 2012, around the same time that Men in Black III hits theaters.
"The Men In Black franchise is an unbeatable starting point to deliver a genre-bending gaming experience with a level of production value on par with Hollywood," said David Oxford, Executive Vice President of Activision Publishing.
According to the press release, the MIB video game will share the film's "unique blend of action, humor, and special effects." Presumably you'll be shooting lots of aliens. Pretty common behavior for a gamer. Activision is planning both console and handheld versions. Additional details on gameplay features will be released soon.
The game has an original story that builds on the history of the series. You'll see a mixture of new and old faces. Wonder whether they'll get Will Smith or Tommy Lee Jones to contribute.
"With Activision bringing the Men In Black universe to life on next gen consoles for the first time, the Men In Black video game will be both familiar to fans, an exciting beginning for the uninitiated, and revolutionary for the franchise," said Mark Caplan, vice president of licensing for Sony Pictures Entertainment.
There has only been one MIB video game released in the franchise's history. Men in Black II: Alien Escape, based partly on the second film, tasked players with hunting down violent aliens that escaped from a prison ship. Considering how much money the MIB films brought in, it's a bit surprising there haven't been more games. A movie about two dudes shooting aliens seems like an ideal candidate for a video game cross-over.
Staff Writer at CinemaBlend.