Men Steal Playstation, Armed With Cheapest Weapons Possible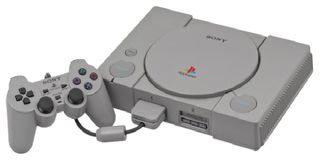 How bad have you ever wanted a PlayStation?
Did you ask Mom and Dad to buy you one when you were a kid, but they ignored your pleas? Apparently that's what happened in these Cincinnati men's childhood days (via 19 Action News), as they robbed a home (armed with just sticks, mind you) to steal a Sony PlayStation and 18 PlayStation titles early last Thursday.
Two of four suspects involved in the burglary were taken into custody after their 4 a.m. crime took place, but Cincinnati police are still searching for the other two. The men who were arrested, Deangelo Foster (19) and Jacob Henry (24) face aggravated burglary charges. A third man, Jeffrey Monhan (36) was also involved and is under arrest. They're still searching for the other suspect, as a police K-9 got involved with the search.
Thankfully the police are in contact with the victims of the crime and no one was hurt, but let's examine this situation a bit. For one thing, these guys used sticks as clubs to potentially bat away anyone who would stop them from lifting a PlayStation. Literally anything in the world would be more useful, especially if the robbers anticipated anyone giving them any static.
And weirdly enough, the news article and similar pieces around the net say nothing about whether or not this was a Sony PlayStation as in the original system released back in the '90s or a PlayStation 4. Breaking into a house with three other men to steal a PlayStation and 18 games is one of the biggest wastes of time I can think of, especially if said household also had a flat-screen television, computer, or other high-dollar items. A PlayStation 4 would make sense, but a PlayStation?
That family would have had to have been holding onto some pretty pricey titles to make the theft worthwhile, and how would the robbers have known about it? Did they see a whole treasure trove of Suikoden IIs hanging out through the window one night or a bundle of Valkyrie Profiles stuffed into a corner? That's just about the only way this crime would have made sense, because I can attest that several of us out there would do terrible, shameful things to get hold of some of the rarer PlayStation titles that haven't been given new life on the PlayStation Network or PS Vita.
The moral of the story is, this was a very bizarre and a very stupid crime. Honestly, a flea market or GameStop with their used consoles probably would have been their best bet, but I'm no criminal mastermind. I just have to think that if it was about the games and wanting a PlayStation, they could have gone with better loot to sell or a household with a ton of games. I'm sure someone would have a field day with any old hardcore gamer's dwelling. These guys just didn't know what they were getting into, I suppose.
Your Daily Blend of Entertainment News