Metal Gear Online Rides Off Into The Sunset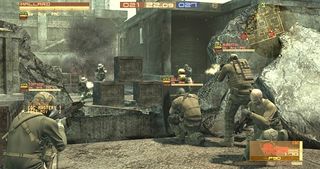 It's a sad day the world over for fans of Solid Snake and Co., as Konami has officially announced the closure of Metal Gear Online. Included in 2008's Metal Gear Solid 4: Guns of the Patriots, MGO is the game's quirky but action-heavy online offering and, after four years of bullets, sneak kills and girly magazines, the curtain has finally fallen on the service.
In the official statement from Konami, it's mentioned that MGO was originally slated for a three-year life cycle.
"However, out of respect for our loyal fans, we have continually pushed back this deadline in order to support our online community," the statement reads.
I'm not sure how many times one can "continually" push something back with only an extra year added to that time, but I suppose an additional 12 months was better than nothing. The closure also comes on the service's fourth anniversary, which seems like a pretty lame way to celebrate a birthday, if you ask me.
I'm not going to pretend I was one of the hardcore folks who kept MGO running strong all of these years, but I was certainly a fan of its unique brand of strategic gameplay for the first several months. There aren't a lot of military shooters out there that combine realistic warfare with the likes of hiding in cardboard boxes or launching yourself across the screen in a man-cannon.
Servers went offline at 16:00 (JST), which was 1 a.m. if you lived in New York. Feel free to observe a moment of silence for this great online game. Maybe offer a solemn salute. If you need to shed a tear or two, I won't tell.
Staff Writer for CinemaBlend.
Your Daily Blend of Entertainment News
Thank you for signing up to CinemaBlend. You will receive a verification email shortly.
There was a problem. Please refresh the page and try again.