Mr. Karate, NEST Kyo Join King Of Fighters XIII Roster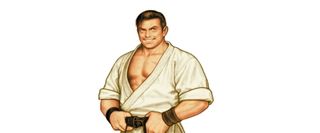 Atlus sent out word that the DLC for KoF XIII for the Xbox 360 and PS3 is currently available right now, featuring two fan-favorite fighters: Mr. Karate and NESTS style Kyo.
What's more is that Atlus and SNK plan on continuing to support the game long after its 2011 release, with additional content and title updates. As stated in the press release...
Recently the company has been releasing lengthy video tutorials to help give gamers an idea of what kind of specials, dream cancels and super moves they can string together with various characters. You can check out the first series of walkthrough videos right here...you might want to make sure you have just over 10 minutes carved out before starting it, though.
For those of you interested in picking up the digital downloads of Mr. Karate and Kyo, you can buy both for 400 MS Points from the Live Marketplace or you can buy each one individually from the PlayStation Store with Mr. Karate clocking in at $4.99 and NEST Kyo carrying a discounted $2.99 price tag.
You can learn more about King of Fighters XIII or the DLC by paying a visit to the game's Official Website.
Staff Writer at CinemaBlend.
Your Daily Blend of Entertainment News
Thank you for signing up to CinemaBlend. You will receive a verification email shortly.
There was a problem. Please refresh the page and try again.