Mysterious Valkyria Chronicles Code Teases Fans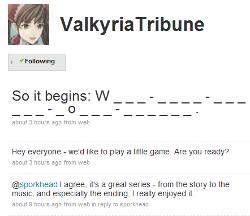 Apparently Sega's got something they want to tell us about PS3 RPG Valkyria Chronicles or upcoming PSP game Valkyria Chronicles 2. Instead of just sending out some press release though, they're making a game of it.
"Hey everyone - we'd like to play a little game. Are you ready?" read an update on the official Valkyria Twitter earlier this evening. Then, shortly afterward, there was another update: "So it begins: W _ _ _ - _ _ _ _ - _ _ _ _ _ _ - _ o _ _ _ - _ _ _ _ _ _ ."
Presumably Sega will start adding in more letters over time to make this "fill in the blank" exercise doable. Or maybe they'll just sit around laughing at fans' ridiculous guesses for the next few days. If you're not really in the mood for mind-games, though, just sit back and hope they get around to revealing some new Valkyria Chronicles 2 information when it's all over.
Staff Writer at CinemaBlend.
Your Daily Blend of Entertainment News
Thank you for signing up to CinemaBlend. You will receive a verification email shortly.
There was a problem. Please refresh the page and try again.