NBA 2K12 Soundtrack Features Eminem, Busta Rhymes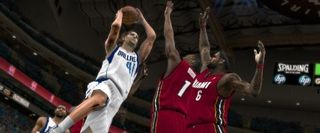 Today 2K Sports revealed the full soundtrack for NBA 2K12. Though the game makes extensive use of retired NBA greats, the soundtrack is composed of contemporary hits.
Eminem, Royce Da 5'9", Travis Barker, Busta Rhymes, Lil Jon, Twista, Cee-Lo, and Q-Tip are among the artists lending their talents to the game. The 28 track soundtrack features a few original songs and remixes created specifically for NBA 2K12, including Freddie Gibbs' "Look Easy" and Pharoahe Monch and Smif N Wessun's "Shout The Winners Out."
Alex K. and D.J.I.G., who collaborated on "Now's My Time" for the soundtrack, were the winners of a Duck Down contest. They were chosen by fans to create an original song for the game. They beat out thousands of producers and MCs in the contest.
The full list of songs is below:
Eminem & Royce Da 5'9" - Fast Lane
Travis Barker featuring Yelawolf, Twista, Busta Rhymes and Lil Jon - Let's Go
CyHi Da Prynce - Sideways (2K Remix)
Kurtis Blow - Basketball
Friendly Fires - Skeleton Boy
Machine Drum - Let It (edIT Remix)
Aceyalone featuring Cee-Lo - Workin' Man's Blues
Freddie Gibbs - Look Easy (2K Original)
Chiddy Bang featuring Q-Tip - Here We Go
Zion I featuring Rebelution- Many Stylez
Duck Down All -Stars 2 - Shout The Winners Out (2K Original)
Middle Class Rut - New Low
Bassnectar - Cozza Frenzy
Ancient Astronauts - Still a Soldier
Alex K. and D.J.I.G. - Now's My Time (2K Original)
See-I - Haterz
James Pants - We're Through
Shinobi Ninja - Rock Hood
DELS - Shapeshift
Hudson Mohawke - Thunder Bay (instrumental)
Mr. Chop - Intermezzo 2 (instrumental)
Kid Mac featuring Mat McHugh - Hear You Calling
Thunderball - Make Your Move
The Freeze Tag - The Shuffle (instrumental)
The Death Set - It's Another Day
Project Lionheart -They Come Back
Jamaica - By The Numbers
XV - Awesome
Staff Writer at CinemaBlend.
Your Daily Blend of Entertainment News
Thank you for signing up to CinemaBlend. You will receive a verification email shortly.
There was a problem. Please refresh the page and try again.