NBA 2K8 Demo Now On Xbox LIVE Marketplace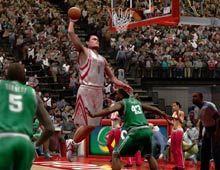 2K Sports wanted to make sure that while you're perusing through TGS news this week, you have something new to play with. The NBA 2K8 demo is now available for download on the Xbox LIVE Marketplace. Let the comparisons begin, because EA's NBA 08 is already up. The demo features a four-minute exhibition game without music or announcers.
2K may have made a mistake with this one, because the NBA 08 demo just looks fantastic. Now, NBA 2K8 does indeed play fantastically. But with the graphics whores among us, presentation is a huge factor. We'll have to wait and see if gameplay can beat out the smooth stylings of a rival. For now, go ahead and check all the refined gaming that is NBA 2K8.
NBA 2K8 is set to release for the 360, PS3, and PS2 on October 2nd.
Staff Writer at CinemaBlend.
Your Daily Blend of Entertainment News
Thank you for signing up to CinemaBlend. You will receive a verification email shortly.
There was a problem. Please refresh the page and try again.