Next Tomb Raider Has Multiplayer?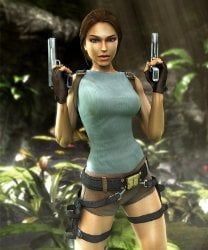 For her entire career, Tomb Raider hero Lara Croft has worked alone. In her next adventure, though, she may have back-up.
Crystal Dynamics, the developer behind the series since 2003, is now seeking a lead designer for "future AAA title development for Xbox 360 and PS3." This designer is going to be charged with creating and leading "multiplayer vision and design effort" for the title. It also mentions that they'll be designing "multiplayer maps", which suggests a separate multiplayer mode, as opposed to co-op support for a campaign. That doesn't mean it couldn't have co-op as well, though.
Their unannounced game was outed earlier
[[ http jobs.gamasutra.com jobseekerx ]] this summer by another listing. That particular wanted ad stated that their game belonged to "one of the most prestigious AAA franchises in the industry." Today's job posting is the first mention of the game's platforms or multiplayer, though.
This sort of a change isn't completely unexpected. In an interview last fall, Crystal Dynamics' creative director Eric Lindstrom stated last fall that they consider multiplayer features with each new installment and "next time could be the one." Publisher Eidos has been looking for a way to revitalize the franchise, too.
Staff Writer at CinemaBlend.