Nintendo Doesn't Care If Chinese Gamers Can't Play Wii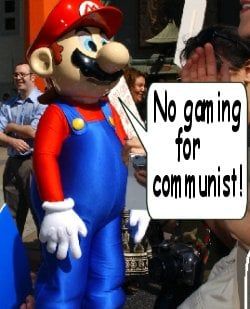 Nintendo recently put together a list and outlined the countries most known for piracy and illegal handling of video game property. For the two most arrogant countries in the world, it was good news that United States and United Kingdom wasn't on the list. However, there were a handful of other countries that Nintendo wants reprimanded, and have proper recourse taken. Hence, Nintendo is asking the heads at Washington for help.
"It is important for parents to note that if users of circumvention devices are children, they may be exposed to unsuitable content downloaded from the Internet and played on their Nintendo systems," said Jodi Daugherty, Nintendo of America's senior director of anti-piracy.
The top countries in violation of "unsuitable" content making its way onto Nintendo platforms and housing a good deal of piracy are:
PEOPLE'S REPUBLIC OF CHINA
REPUBLIC OF KOREA
BRAZIL
MEXICO
SPAIN
PARAGUAY
I would have taken the time to thoroughly post up all the accompanying reasons that Nintendo had listed for each country, but they were more like editorial rants than anything. If you don't believe me, here's an exert for their comments on Mexico's procedures for handling piracy: "Anti-piracy actions by the Mexican government in 2008 were wholly inadequate. The Mexican government must recognize the seriousness of the piracy problem and start using existing enforcement tools."
Nintendo lists how some of the countries need to reorganize and train up their customs officers, etc. Yep, who knew Nintendo was so diplomatically inclined with the affairs of other countries? Oh, wait…they're not! They just want to make even more money that they're losing to piracy. Being the number one console manufacturer in the world just isn't enough, I guess.
Nevertheless, some of you might be interested in knowing why China is at the top of the list, though, and it has nothing to do with Chinese gamers not wanting to pay for games. In a recent press release regarding survey data by Research and Markets, Lisa Cosmas Hanson stated, "In spite of the regulation that has banned the sale of game consoles in China since the year 2000, gamers are flocking to stores that sell illegally imported Wii, Xbox 60, PS3 and PS2 machines to take part in the excitement of console gaming," Hanson continues on to say, "While these consoles are expensive for the average Chinese consumer, gamers are willing to spend money on them to supplement their online gaming experience," And we're talking about more than 14 million hardcore Chinese gamers willing to pay to play console games, in addition to the online games they have access to.
Basically, Nintendo doesn't want Chinese gamers playing their games at all if there is a regulatory ban in China for game consoles, despite the growing wealth of consumers willing to pay for such consoles. Nintendo's estimate of the situation is as follows: "China continues to be the hub of production for counterfeit Nintendo video game products. The number of online shopping sites in China selling infringing Nintendo products is increasing, and help is needed by the government to curtail the growth of these illegal marketplaces."
H'm, well, there's a ban on importing game consoles into China. What do they expect? Chinese just shouldn't have the privilege of playing console games at all because their Government won't let them? Heck, at least they're actually paying for the illegally supplied material. Nintendo strongly suggests, however, that…"China should work in the coming year to eliminate barriers to its enforcement laws."
Nice. Until the moment arrives when said enforcement laws are abolished, Nintendo doesn't want any of you living in China to use their products. Think it's fair? Well, don't complain to us about it, take it to Nintendo.
For more insight, news and updates regarding all things gaming, be sure to stay tuned in with Blend Games.
Staff Writer at CinemaBlend.
Your Daily Blend of Entertainment News
Thank you for signing up to CinemaBlend. You will receive a verification email shortly.
There was a problem. Please refresh the page and try again.