Nintendo Gamers Will Finally Be Able To Play Terraria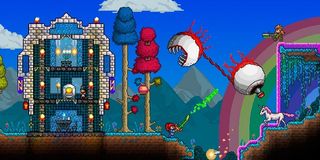 Well, there's good news and bad news. Terraria is coming to the Nintendo Wii U and 3DS. That's good news for fans of the beloved build-it-yourself action/adventure/platforming game, and bad news for all of your free time when it arrives in early 2016.
Announced today through the Terraria blog, 505 Games and Re-Logic are partnering up to finally bring the game to two of the only consoles it's not available on at this point. Here's what they had to say about the long-awaited ports:
While Terraria on Nintendo consoles have been rumored for a while now, some even including a presumed launch date, this is the first time the development team and publisher have come out and said, "Okay, yeah, it's totes happening."
Since both the Wii U and 3DS have dual screens, the announcement teases new functionality for the game that will take advantage of those extra input and display capabilities. Otherwise, there's not a whole lot that can be said at this point outside of a potential launch window.
"For the most part, these are guesses or estimates," reads the announcement in reference to rumored launch dates. "We are sharing here today that the expected launch for Terraria on Wii U and 3DS will take place in early 2016."
The announcement goes on to promise "a few more surprises" come the holiday season but, otherwise, it looks like we'll have to just keep on waiting for more details.
When Terraria first launched a few years back for PC, it was initially seen as a sort of Minecraft clone squished into two dimensions. Folks who took the time to play the game, though, quickly discovered that there was loads to do outside of exploring, digging and crafting. You could build homes for NPC and enjoy some light RPG excitement, try to discover unique map attributes like a hidden dungeon, floating island and underworld, as well as create all sorts of armor and weapons to wage war against roaming enemies and bosses.
The game has done a ridiculous amount of growing over the past few years, cramming in loads of every type of content. It's a completely different game at this point, and one Wii U and 3DS players will finally get to dig into come 2016.
Your Daily Blend of Entertainment News
Staff Writer for CinemaBlend.