Nyko's Zoom For Kinect Lets You Lets You Play In Smaller Spaces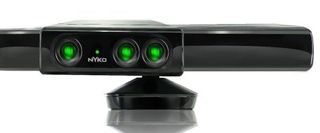 Hopping, jumping and bouncing around to play Kinect games apparently takes up a lot of room, so much room that Nyko figured a solution was in need. Hence, the peripheral company came up with the Zoom for Kinect, which requires 40% less space thanks to the extra camera zoom.
Chris Arbogast, director of marketing at Nyko Technologies commented in the press release, saying…
The Zoom doesn't use batteries; it doesn't plug into an outlet and basically enhances the space you have so that instead of one person being able to use Kinect within the given space up to two people can use Kinect within the exact same space. You have to admit that for tiny areas that's a fairly nifty device, which I can see selling quite well.
Plus, the Zoom is perfect for roommates who like tag-teaming in Kinect Sports or a bunch of illegal immigrants jammed into a tiny house who like to relieve a little stress by playing party games with the five other families they're living with…you know, stuff like that.
I'm sure you're now wondering just how much the Zoom will cost? Well, unlike some of other more costly Nyko peripherals out there, the Zoom carries an MSRP of only $29.99. That's not very wallet-raping at all.
You can pick up the new device from most retailers and e-tailers starting August 23rd. For more info feel free to check out Nyko's Official Website.
Your Daily Blend of Entertainment News
Staff Writer at CinemaBlend.
Your Daily Blend of Entertainment News
Thank you for signing up to CinemaBlend. You will receive a verification email shortly.
There was a problem. Please refresh the page and try again.