Obama, Palin Playable In Mercenaries 2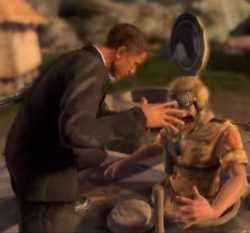 Those of you who enjoyed the Saints Row 2 trailer with presidential candidates John McCain and Barack Obama strolling the virtual streets of Stilwater and popping criminals will really like this: Obama and Republican vice presidential candidate Sarah Palin will become playable characters in Mercenaries 2 in an upcoming DLC pack.
Why Palin and not McCain? Probably because it's a lot funnier to hijack a tank as a soccer mom in stylish eyeglasses than as a POW. There's the residual comedy from all the SNL skits, too. Both Palin and Obama have been criticized by opponents for their lack of national security experience so featuring them in a video game where they single-handedly battle an entire army can only help, right?
The price of this DLC hasn't been revealed yet, nor the release date. They probably want to get this live soon-ish though seeing as Election Day's on Tuesday. Oh, and here's a video of the two candidates in action.
Staff Writer at CinemaBlend.
Your Daily Blend of Entertainment News
Thank you for signing up to CinemaBlend. You will receive a verification email shortly.
There was a problem. Please refresh the page and try again.