OnLive Could Theoretically Put Xbox 360 And PS3 Out Of Commission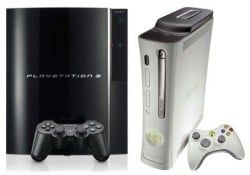 One of the most controversial and recent ways to game in the near future easily comes in the form of OnLive: a quasi-home console that allows gamers access to games across multiple platforms without any expensive or bulky hardware. Want to play a multiplayer round of a third-party PS3 exclusive? No problem. Want to put in some time with a PC or Xbox 360 title later? No worries, it can be done with OnLive.
Now before people jump off at the mouth as to why OnLive won't be pushing Nintendo's Wii out of town, it's because it really has nothing to do with the Wii. The games and play functions OnLive offers up are on the complete opposite side of the spectrum when it comes to gaming...in comparison to the Wii.
Added to this, the one thing OnLive can't do is imitate the likes of the motion-controlled Wii and that would probably be its only downfall, if one would consider that lacking feature as such. The main highlight of the service, though, is that it allows gamers with a relatively low-end PC or standard cable connection to connect to the OnLive service and play the latest high-end, HD games.
OnLive operates much like Xbox Live Gold and Xbox Live Silver with multiple payment plans along with a free service option, as outlined in the initial announcement covered here at Blend Games a few days ago. And just to note, the service does not require a monthly subscription to play games or access demos, which is contrary to what some gaming sites might lead gamers to believe. Now it's with the subscription free qualities that obviates where the real competitive nature of the service comes into play.
Initially, PC or Mac owners can access OnLive via a browser-based plug-in but a MicroConsole will become available at a later date. It could also be considered as the console to end Microsoft and Sony's consoles, as well as put a huge damper on the PC hardware market.
The issue here is that theoretically it can run games that the Xbox 360, PS3 and high-end PCs can run without the necessary costs of owning the consoles or the latest in PC graphics card technology or hardware. I'm sure Nvidia and Intel are shaking in their boots. Added to this, casual gamers who either couldn't afford to get into HD gaming or wasn't entirely interested in home consoles, can easily get involved thanks to the convenience of OnLive operating on browser technology. Hypothetically, if you can play Runescape you can run OnLive, and that's a demographic that could seriously boost the service to new heights.
Now just because it's aimed at thwarting current-day console (and PC hardware) manufacturers doesn't mean it's without potential shortcomings. One of the major drawbacks – and one of the obvious concerns of gamers – was addressed in an article on CNet, stating…
In addition to this, OnLive will be using proprietary data compression technology to help condense down on some of the lag issues that are bound to be present for some gamers who use the service. Now if the data compression technology works as it's supposed to, then it leaves gamers with one very obvious question: Why bother with an Xbox 360 or PS3?
The answer may lie in some exclusive titles that may not make the jump. However, most big-budget, triple-A franchises from the likes of Activision, Electronic Arts and THQ are expected to make the leap over in support of the OnLive service. This includes titles such as Borderlands, Dragon Age Origins, Mass Effect 2, Assassin's Creed II, Prince of Persia: The Forgotten Sands, and Metro 2033.
And any gamer with a DSL or cable connection and the ability to run the browser plug-in is eligible to experience top-notch games that would have otherwise cost them an arm and a leg for either upgrading their PC, purchasing a new console or in some cases having to scrap together cash for a new hard drive for that console.
Now OnLive isn't the only service out there to attempt "cloud" gaming. Some readers may remember PlayCast from about a year ago, and according to FT.com there are a few other cloud gaming services out there that may or may not ever get off the ground.
Nevertheless, with OnLive's launch looking about as concrete as any other top-tier gaming property out there, the possibility of it running the Xbox 360 and PS3 out of town is starting to look very real. To learn more about OnLive be sure to visit the Official Website.
Your Daily Blend of Entertainment News
Staff Writer at CinemaBlend.