PS4 Grabs 95% Of Consumer Votes After Amazon Ends Poll Early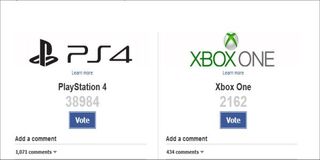 With nearly 95% of the vote (approximately 94.7% in favor of the PS4) Amazon has decided to end the user poll between the Xbox One and PlayStation 4 early. Back on June 13th the marketplace giant ran a Facebook poll to see which one consumers were more interested in between Microsoft and Sony's consoles and it appears that gamers have spoken quite loudly with their Facebook voting.
For now, the final numbers read 38984 votes in favor of the PlayStation 4 with only 2162 votes in favor of the Xbox One. Does anyone know how many employees work at Microsoft?
Originally, the poll was supposed to run for a week and end on June 20th, giving gamers plenty of time to cast a vote and comment in favor of the console they were most looking forward to. Unfortunately, Amazon cut the poll short after there was a massive and clearly lopsided showing of favoritism for one product over the other. This could also be an easy indicator for companies to use as a gauge for the potential purchasing habits of gamers and casual consumers alike for this fall.
Thinking about this logically, there's no real reason as to why Amazon would have wanted to end the poll early given all the free publicity and traffic they were receiving from the unbiased and very public escapade. That is, unless things were cut short, potentially, under coercion from upper management?
In reality, the poll was definitely generating a lot of media buzz, especially from gaming outlets who covered the lopsided-as-a-poorly-done-boob-job poll, with an obvious reporting slant given in favor of Sony's upcoming PlayStation 4. It's not unlikely that the whole event could have incurred the intervention of reputation management agents, perhaps?
Personally, I really wanted to see what the voting habits were going to be like at the end of the official session between both consoles, but I guess we'll have to settle for what they ended up with.
Maybe the good folks at Forbes or Polygon can ping Amazon and find out what really happened? If I were a betting man I'd say a very nonsensical and boilerplate PR response is what we'll all end up with. Such is the fate of these kind of events during the propaganda-fueled warfare of corporate giants.
Your Daily Blend of Entertainment News
Staff Writer at CinemaBlend.