PS4 Now Fully Supports Hauppauge Game Video Capture Devices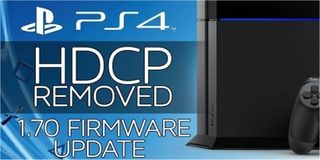 HDCP implementation has prevented a bunch of gamers from making full and good use of the PlayStation 4's capabilities to have gameplay captured in high quality, digital video. Sony released the console last year to some small complaints and whining from select members of the gaming community, mostly the so-called journalists, as it meant that they weren't able to legally capture HD content from the PS4 through standard video capture devices.
Well, with firmware update 1.70 going live for the PlayStation 4, the whining ceased and the gnashing of teeth ended.
Thirteen1 is reporting that Hauppauge has announced that following the firmware update within the PS4 to version 1.70, all of their HD game capture devices are now compatible with Sony's new PlayStation game console.
I guess, had this come a lot sooner perhaps Adam Sessler wouldn't have bailed on Rev3 Games?
Anyway, for those of you who don't know: Game capture devices enable users to hook up the device to their game system, plug it into their PC and then have the video information saved in various formats for video editing or uploading purposes.
A lot of the "Let's Play" sessions you see on YouTube from home console games are done thanks to HD capture devices. A good example is something like this video below.
Now we'll begin to see a heck of a lot more PS4 capture sessions made available within the YouTube video editing circles.
Previously, users would have to use careful capturing through Twitch to upload videos of PS4 gameplay, but now anyone who doesn't want to break the copyright protection on their PS4 can use an HD capture device without worrying about the NSA finding out because you have Spybox in the home and then two guys in black suits and sunglasses show up to cart you and your PS4 off to Guantanamo Bay.
As for those of you considering using Hauppauge devices, the PS4 is compatible with both the HD PVR 2 and the HD PVR Rocket.
Of course, if you're still rocking the geriatric twins, you don't have to worry because all of Hauppauge's devices are readily compatible with the near decade-old technology.
If you have an Xbox One, the devices have been compatible with Microsoft's repackaged VCR for today's generation of media enthusiasts since day-one. I guess that's one of the advantages of having paid $100 more at the expense of dealing with 792p output.
You can learn more about Hauppauge's HD capture devices by paying a visit to their official website.
Staff Writer at CinemaBlend.
Your Daily Blend of Entertainment News
Thank you for signing up to CinemaBlend. You will receive a verification email shortly.
There was a problem. Please refresh the page and try again.