PS4 Sells 322,000 Units In Two Days In Japan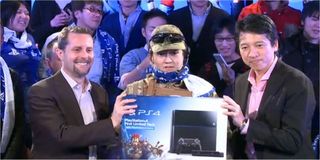 Japan is a much smaller market than the EMEA and Americas, but it's still considered as the most important market behind North America due to its influence on market share, trends and platform partisanship. All of that is to say that if you had any doubts about the PS4's performance in Japan, you can put them to rest because the console is selling like crazy in the far east.
According to Famitsu [via Gearnuke], the PlayStation 4 got off to a hot start from the starting line on February 22nd, and within just two days of being available on the market, the console managed to move an impressive 322,000 SKUs (stock keeping units).
As noted in the Gearnuke article...
It's not just a phenomenon in Japan, though.
The PlayStation 4 has been suffering from stock shortages since launch, and according to Sony the PS4 will continue to suffer stock shortages heading into April.
The world around, Sony has been picking up a lot of consumer support for their pro-industry policies that helped stave off an all-digital future that Microsoft had originally proposed last year.
In fact, if you look at the estimated global charts from VGChartz, the PS4 is the lead console platform in most of the weekly sales, save for trailing behind the Nintendo 3DS, which is set out on a quest to dominate all.
Even still, the PS4 is moving units in such abundance that it won't be long until Sony catches up with Nintendo for the crown of the eighth generation of gaming. I'm almost tempted to say that the PS4 might pass up the current leader, the Wii U, before April gets here.
Originally, there were a lot of chary analytical predictions about the success of the PS4 in Japan by console warriors and armchair mercenaries, thinking that Sony's lean toward American culture with the appeal of the PS4 would result in the Japanese taking a less-than-warm welcome to the console, but that doesn't seem to be the case at all.
Sales tracker MediaCreate also put the estimated first week sales tick for the PS4 in Japan at 350,000 units; but as we can clearly see, the PS4 is on track to hit 500,000 in its first week in Japan.
The suits at Sony are probably prancing around with glee.
I tend to doubt that the Xbox One will share in a similar party atmosphere when it launches in Japan. In fact, don't be surprised if the Xbox One launches in Japan like a hobo straggler breaking into a sorority home and announcing he has free booze, where he's greeted with a fair amount of disdain and disgust, and a small measure of intrigue.
Your Daily Blend of Entertainment News
Staff Writer at CinemaBlend.