PS4's Top Sellers For March Revealed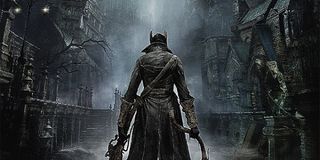 March was a big month for unexpected hits on the PlayStation Network, especially if you happened to be a game called Bloodborne. In a crowded month of big releases from both the AAA and indie markets, as well as a few of late February's big performers continuing to sell well, From Software's punishing adventure game reigned supreme.
Each month, Sony likes to keep its customers up to date on which games they shelled out the most dough to enjoy. It's also interesting to see the occasional blast from the past pop up, spurred on in sales by an impending sequel or inclusion on a mega-sale.
Thanks to March's figures, we now have irrefutable proof that PS4 gamers are masochists, as Bloodborne leads the pack. In case you haven't played it yet (or prefer not to die a few dozen times in the starting location of your new games), Bloodborne is the spiritual successor of the Souls series, introducing the new gen console to a unique blend of punishment and repetition that makes every small success seem infinitely more important.
Bloodborne is a beautiful, crushing game, but it also sports some of the best action the PlayStation 4 has seen to date. For those reasons, a community has quickly built up around it, pushing it forward to the number one spot for PSN sales last month.
The number two spot went to a hold-over from February, Battlefield Hardline. While perhaps not making as big an impact as recent military-focused entries in the series, Hardline's intriguing take on cops vs. robbers has still managed to take hold with FPS fans, selling well in its first month on the Network.
The third slot is something of a surprise: Surgeon Simulator: A&E Anniversary Edition. I'd be interested to know if these charts are based on units sold or dollars earned but, either way, that's pretty impressive. Surgeon Simulator was included in a flash sale that marked it down to just a buck, which explains why the oddball title performed so well in March. It's one of those games that looks interesting, but probably not "full price interesting." Offer something like that for a dollar, and it's no surprise it managed to sell so well.
Rounding out the month's top five are another couple of unexpected hits, Helldivers and Dragon Ball Xenoverse. The former is a multiplayer, top-down strategic twin-stick shooter and the latter is a semi-open world brawler featuring a cast pulled from basically the entire Dragon Ball storyline and light MMO elements including the ability to create your own hero.
Really, you've got to give it up for the underdogs in March. Up against games like MLB 15 The Show, a Final Fantasy spin-off and a handful or recent mega-hits, four out of the top five performers aren't necessarily names you'd expect to find at the top of sales charts. That, to me, says good things about modern gamers and the types of experiences they are willing to give a fighting chance.
Your Daily Blend of Entertainment News
Thank you for signing up to CinemaBlend. You will receive a verification email shortly.
There was a problem. Please refresh the page and try again.