PS4 Voice Command Video Shows It's Just As Wonky As Xbox One's Kinect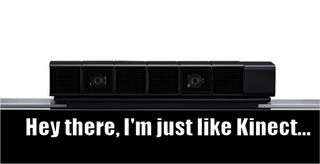 "Voice commands are the future!" they say. "Yelling at your TV is better!" they say. "Getting angry at your technology for not listening to you is what people want!" they say. Well, like the video above shows, voice commands via the camera or microphone is a wonky, shoddy piece of crap that doesn't appear to work on the PS4 just as well as it didn't work on the Xbox One.
The video comes courtesy of YouTube user Apoc47, where he tries desperately to get the PS4 to play The Amazing Spider-Man. Unfortunately, the voice commands are about as reliable as the Republicans coming up with a plan to fix unemployment that doesn't include giving tax breaks to corporations who send jobs overseas.
Surprisingly, though, the voice commands on the PS4 aren't too bad when it comes to selecting and playing games. It definitely does a better job of reacting to game related commands than it does to TV on your TV commands. This is opposite for Xbox One, which seems to excel at lots of non-gaming related voice navigation.
I should also note that the above video is a bit misleading. The guy has a microphone; we don't get to see how close Kinect is, and he's speaking very confident, very loud, and very clear English.
While the above video seems like a real step up over the PS4's offerings (and in some ways, it is), the Kinect runs into some pretty big hurdles when you throw some monkey wrenches into the gears... specifically, if you speak with an accent.
Hey buddy, there's an easy fix for that problem: Speak better American.
Nevertheless, it's interesting to note that in both the firmware updates for the PS4 and Xbox One, Microsoft's aim was to fix up better voice recognition and implementation for Kinect 2.0, where-as Sony's aim was to fix up load times, accessibility and game sharing functionality, so you can game faster, game better and game more.
In fact, if you look at one of the more recent user videos for Kinect's voice commands – following the April update for the Xbox One – you'll see that it has better recognition for varying types of English accents and enunciation variance, compared to when it first launched. Check it out below.
That's real spiffy right there.
Microsoft has a real marketable winner in the voice commands for Kinect... well, that would apply if they weren't deporting the NSA Spybox from the Xbox One's bundle come June.
Oh well. Looks like Kinect's upgrades almost made it worth the asking price. Too bad it's getting kicked to the curb like a welfare check at a five-star restaurant.
Your Daily Blend of Entertainment News
Staff Writer at CinemaBlend.