PS4's Worst Game Is Getting A Remake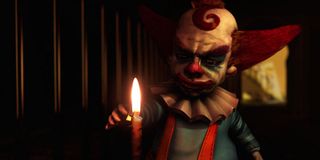 Basement Crawl, the worst-rated game on PS4 and one of the worst games of 2014, is getting a facelift. Developer Bloober Team says they're remaking the game from scratch with a new engine to mend their relationship with disappointed gamers.
"I know that this isn't really the way things are usually done in the industry, but I think that if you have put a bad product out to people it is your job to do what you can to fix that," Bloober Team marketing manager Marc Colhoun told Gamespot. "Even if it means going back to the drawing board on a game that has already been released."
In Basement Crawl, players face off in Bomberman-like battles. They plant traps throughout mazes in hopes of taking each other out. The game was designed with multiplayer in mind but there's also a single-player campaign with bots.
The game launched in February to horrible reviews. It was called a "conceptual mess that just doesn't work" and "a broken, unfinished game." Reviews mentioned poor netcode, a lack of features and shoddy design among other things.
Basement Crawl's Metacritic score of 27 makes it easily the worst-rated game released for PS4 so far. The small library for the new console doesn't give enough context, though. It has a worse Metacritic score than recent flops Aliens: Colonial Marines, Star Trek and Rogue Warrior. The game's even rated lower than Dungeon Keeper on iOS and Shellshock 2, the two worst games I've ever reviewed.
Bloober Team, to their credit, is trying to make massive improvements to the game. They won't promise too much, though.
"We don't want to come out and say that this [new version] is going to be 10/10 GoTY, but just a way for us to regain the trust of gamers. We also really don't want anyone to think that this is some kind of quick money grab. So, we will be giving this game for free to people who bought the original game. This is our priority, to ensure that we give you what you expected from us. To do this we are getting in touch with as many people as we can that bought the game to get feedback and help ensure that you guys are just as much part of the process as we are."
The remade version of Basement Crawl will include a tutorial and additional game modes. Many of the commonly reported bugs will be fixed as well. Additional details will be announced by Bloober Team soon.
Staff Writer at CinemaBlend.
Your Daily Blend of Entertainment News
Thank you for signing up to CinemaBlend. You will receive a verification email shortly.
There was a problem. Please refresh the page and try again.