Painkiller: Hell & Damnation Mod-Kit Now Available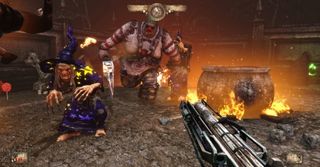 The Farm 51 gets it; they understand that the longevity of a game is not in throwing in a lot of useless DLC, restrictive DRM or wallet-raping microtransactions. The Farm 51 understands that if you want your game to have eternal life you must build the mod tools so that the modders will come.
Nordic Games announced today that The Farm 51 has released the official mod-kit suite for eager gamers, modders and game design enthusiasts alike, which will allow the community to build their own maps, weapons, enemies and more, similar to games like Serious Sam, Doom and Half-Life before it.
Philipp Brock, PR and Marketing at Nordic Games commented about the release of the mod kit, saying...
This is the right way to go about it, for sure. Just look at what the modding community has done for Valve with all the Source Engine stuff...or heck, even before the Source Engine, the original Half-Life is what helped get Gearbox Software off the ground, amongst countless others.
Reinhard Pollice, Business & Product Development Director at Nordic Games also had a few shots to share about the mod-kit, saying...
That's right, in addition to releasing the Mod-Kit so that developers and gamers alike can tool around with Painkiller: Hell & Damnation, the team is also prepping for a Linux and Mac release of the game this spring.
You can grab the tool-kit for Painkiller right now from the tools/software section in the Steam client or you can learn more by paying a kind visit to the Official Website.
Your Daily Blend of Entertainment News
Staff Writer at CinemaBlend.