Phantom Breaker Getting North American Release For Xbox 360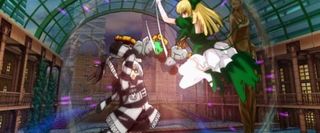 7sixty sent out word today that the Japanese anime fighting game, Phantom Breaker, is getting some localization treatment and will be making its way onto North American Xbox 360s this year.
The game itself is very similar to Twisted Metal insofar that a select group of individuals have been picked to participate in a deadly tournament by a mysterious fighter named Phantom, where the winner gets to have their most sought after wish granted. However, the wish granting thing isn't quite what it turns out to be as there are ulterior motives behind Phantom's tournament, but only those who fight through and get past the other contestants will find out what it is.
The game looks awfully similar to the Neo Geo title, Melty Blood. Both games have a sort of bare anime art-style at their core with extremely detailed backgrounds and stages. To help persuade gamers on whether they will want to purchase Phantom Breaker or not, 7sixty released a new gameplay trailer which you can check out below.
For more information on the game or the option to pre-order this new fighter for the Xbox 360, feel free to pay a visit to the Official Website.
Staff Writer at CinemaBlend.
Your Daily Blend of Entertainment News
Thank you for signing up to CinemaBlend. You will receive a verification email shortly.
There was a problem. Please refresh the page and try again.