PlanetSide 2, DC Universe Online Confirmed For PS4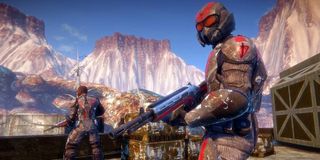 Sony Online Entertainment is bringing two of its free-to-play MMO's to the PlayStation 4. PlanetSide 2 and DC Universe Online will both be available for the next-gen console later this year.
"Since the launch of the original EverQuest, we have pioneered major shifts in the development of MMOs and videogames as a whole, and now we're bringing our titles to the forefront of next-gen gaming," said John Smedley, President, Sony Online Entertainment. "Players are evolving and want a variety of ways to access and play games. Our goal is to deliver epic gaming experiences that players crave while harnessing the awesome power and technology of this incredible new platform. We are thrilled to bring two of our most popular free-to-play games to PS4."
In the MMORPG DC Universe Online, players take on the role of a custom super hero or super villain. They must then perform missions to advance their faction's goals. In the process, they'll fight with or against popular DC Comics characters. Players can team up to complete missions or battle the other faction in PvP battles.
PlanetSide 2 is a massive online shooter. Players join one of three armies fighting for control of Auraxis. The 24-hour war is waged by hundreds of players over three continents. Players can play many different roles in battle, ranging from medic to fighter pilot to tank gunner.
My big question is whether the PS4 versions will support cross-platform play. Player population makes a big difference in MMO's; the more people around to fight or team up with, the better. I'm guessing "no," though, considering the fact that PS3 and PC gamers can't play with each other in DC Universe Online.
Update: "It is SOE's intention that PS4 players will be able to play with PS3 players," a rep for Sony Online Entertainment told Gaming Blend. "However, we will announce more specific information as we get closer to launch."
Staff Writer at CinemaBlend.