Platinum Games Wants To Make Games For Steam And Do A Kickstarter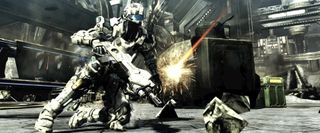 Platinum Games is probably best known for their console-centric action titles. The company really carved out a niche for themselves with well-regarded action titles like Vanquish, Madworld and Bayonetta, and while they're currently hard at work on Metal Gear Rising: Revengeance, Platinum Games' head honcho really wants to do some cool stuff on PC.
In an interview with The Verge during the Tokyo Game Show, Platinum Games' executive director Atsushi Inaba, commented saying...
It's a sad truth that many PC gamers are left out of the offerings that many Japanese-focused publishers come up with. But it's not always PC gamers on the short end of the stick, there's sometimes a hint of xenophobia when it comes to releasing Japanese games Stateside or in any territory that isn't Asia. E.X. Troopers seems to be one of those perfect examples...while the title has picked up a ton of positive interest from gamers, instead Capcom is feeding the more Americanized, standard-fare Hollywood-blockbuster our way with Lost Planet 3.
Anyway, Inaba went on to say...
I'm pretty sure gamers would kickstart a project from Platinum Games...heck, even if it were just to fund the port of a game like Vanquish to PC – just think about the modding possibilities – I would fund that for a dollar...or two.
Inaba also mentions that Valve seems to be a very "open-minded" company and while he mentioned there were things he couldn't talk about, the general gist of the interview seemed to hint at a pure joy and excitement for designing games for the PC platform that extended beyond the standard half-arsed console port. That should be exciting news for PC gamers.
For now, though, Platinum is busy with Anarchy Reigns, The Wonderful 101, the upcoming Metal Gear Rising: Revegengeance and the Nintendo Wii U exclusive, Bayonetta 2.
Staff Writer at CinemaBlend.
Your Daily Blend of Entertainment News
Thank you for signing up to CinemaBlend. You will receive a verification email shortly.
There was a problem. Please refresh the page and try again.