PlayStation 3 Gets Live Event Viewer App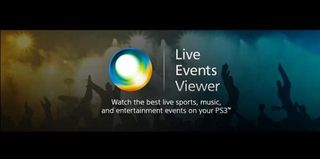 If you're a fan of free and pay-per-view events but dislike dealing with the cable company or trying to enjoy a big show on your tiny computer monitor, then you might want to download the newest app added to the PlayStation 3 library, the Live Events Viewer.
Added to the PlayStation Network yesterday afternoon, the Live Events Viewer is exactly what it sounds like: It allows users to stream live events directly to their home console.
It's pretty impressive how far "games" consoles have grown through this most recent generation, adding music, video and connectivity services outside of video games that have helped transform the machines into total entertainment packages.
But while catching up on movies and television through Netflix or enjoying some anime on Crunchyroll is nice and all, sometimes you want to tune in for a concert or major sporting event as it occurs. With the new Live Events Viewer for the PS3, that's now possible.
Over on the PlayStation Blog, the official announcement puts a big emphasis on this Sunday's WWE Summerslam event, featuring John Cena and Daniel Bryan going toe to toe for the championship. You'll still need to purchase pay-per-view events like Summerslam, but now you don't need, say, a cable box to have access to them on your TV. The Live Events Viewer itself is 100 percent free.
But while some events will come at a cost, others will actually be streamed live free of charge.
"The Live Events Viewer PS3 app will serve as a hub for your favorite sports, concerts and other entertainment events," reads the announcement. "The Live Events Viewer allows you to watch live content or catch up with on-demand viewing of wrestling events, concerts, races and more all with no subscription and no commitments."
New events will be added to the Viewer on a weekly basis. In order to add the viewer to your PS3, simply head on over to the PlayStation Store, scroll down to the "Apps" section, and download the Live Viewer from there. After that, you can peruse the current offerings, watch whatever free stuff is available, and purchase pay-per-view content at your leisure. You'll find the Live Viewer in the XMB under the TV/Video tab.
Your Daily Blend of Entertainment News
Staff Writer for CinemaBlend.