PlayStation Network Updates With Games, Summer Blast Sales Tuesday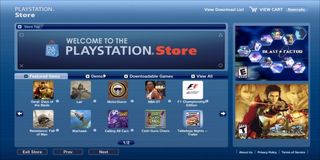 Just when you thought your gaming schedule was going to slow down a bit during the usual summer drought, here comes another weekly PlayStation Network update, this time accompanied by a massive summer sale on loads of games and movies.
Before we get to the big discounts, let's first take a gander at this week's regular dose of digital gaming goodness, set to go live Tuesday afternoon. First up is Bladestorm: The Hundred Years' War, a strategic real-time war game of armored soldiers and clashing swords. Telling the story of the legendary war between the French and the English, Bladestorm is heavy on the RPG elements with loads of combat to keep you busy for, well, probably nowhere near 100 years. Talk about false advertising. Tour de France 2013: 100th Edition will also bring bike racing to your console this week, making it the second title to arrive this week featuring France and the number 100. I just thought that last fact was worth pointing out.
There are also a trio of PlayStation Vita games headed to the PlayStation Network this week, including the hotly anticipated Farming Simulator (No, seriously, loads of people are very excited about this game); Pinball Heroes: Complete, which offers virtual pinball tables themed after various PlayStation games; and the award-winning top-down space shooter, Velocity Ultra. This last one began life as a PlayStation Mini and quickly won over loads of critical praise. Now it's been spruced up and enhanced for Sony's new handheld, making it the, ahem, ultra version of the game.
A demo for Farming Simulator hit PSN last week and both Pinball Heroes and Velocity Ultra are receiving demos this week. Finally, the PlayStation 2 Classic, Warriors Orochi will arrive on PSN this week, combining the worlds of Dynasy Warriors and Samurai Wariors into a single beat-em-up epic.
For more info on the above titles, head on over to the PlayStation Blog.
Speaking of which, that's exactly where you'll find details on the Summer Blast 2013 promotion, offering loads of big games and big discounts, as well as sales on a nice selection of movies.
Between July 2 and July 9, the sale will offer discounts on games like Call of Duty Black Ops II, Batman: Arkham Asylum and Scott Pilgrim vs. the World: the game. A couple of big standouts for the week include Shadow of the Colossus for $9.99 ($5 with Plus), Ratchet and Clank Collection for $14.99 ($7.99 with Plus), and either the PS3 or PS Vita version of the Mortal Kombat reboot for $9.99 ($5 with Plus).
Even more games will be discounted from July 9 to July 16, including the new Star Trek game, The Simpsons Arcade Game and Fight Club Champion. A couple of standouts during week two of the sale include the Hitman Trilogy HD for $19.99 ($15.99 with Plus) and Alice: Madness Returns for $7.99 ($4.99 with Plus).
Throughout both weeks of the sale, a collection of movies will also be discounted on the PlayStation Network, including the likes of The Dark Knight ($6.99 SD, $9.99 HD), The Expendables ($4.99 SD), and The Bourne Legacy ($11.99 HD).
For list and prices of all discounted games and movies (there are quite a few), visit the above linked blog post.
Staff Writer for CinemaBlend.