PlayStation Owner Turns His Console Into Final Fantasy 7 City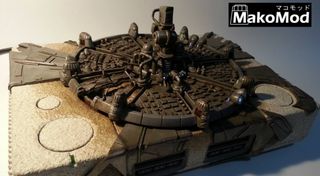 One dedicated fan of Square Enix's Final Fantasy VII has gone the extra mile and recreated Midgar... on top of their old PlayStation console. Yes, Midgar has been rebuilt and recreated on top of an actual PlayStation One console.
DualShockers caught wind of the news from the MakoMod Twitter feed, where it was announced that not only was the PSX case mod completed, it was also up for sale.
As you can see, the case mod is intricately detailed and features working LED and optical fibers that feed working lights through the system. It took Mako more than 10 months to complete the project from start to finish, and yes, the PlayStation actually works and enables you to play your favorite games on the system. You can check out a more three-dimensional look at the console in action with the video below.
According to DualShockers, the modded case is actually available for purchase via auction over on eBay (opens in new tab) where it's up to the 375 euro mark with four days to go on the auction. If you want to get in a bid you'd best hurry.
The case mod is definitely one of the more advanced ones I've seen. A few other ones that come to mind that are also pretty cool include the ones available from Decal Girl that we covered right here. Additionally, the rare Bumblebee Xbox 360 total case conversion is one of the most over the top case modifications I've ever seen. It looks like a remote control car, but it actually just plays Xbox 360 games.
Another mod that also caught the attention of a lot of people is the Xbox 360 Gears of War vault. Check out the unboxing video below and get a good look at the case at around the the 4:40 mark.
Case modding is pretty serious business, it's almost like a gamer's rendition of car kits for gearheads. The Final Fantasy VII Midgar case conversion for the PlayStation One definitely ranks up there as one of the more original mods out there.
Sadly, even with all this attention paid to Final Fantasy VII Square probably won't be influenced or convinced to do an HD remastered rendition of Final Fantasy VII (which is kind of funny given that it's one of the non-seventh gen games that gamers have been asking for as a remastered rendition for a while). Of course, Square Actually has a reason as to why they won't be doing an HD remaster of Final Fantasy VII but it's probably not a reason that will convince the average gamer to stop begging for an HD remastered edition anyway.
In the meantime, you can place bids on Mako's Midgar case over on eBay, or you can learn more about what Mako is up to by paying a visit to his blog.
Your Daily Blend of Entertainment News
Staff Writer at CinemaBlend.