Psyclone Charger Has Gamers Furious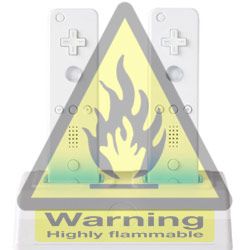 One after another, complaints are coming in about Psyclone Essentials' Wii-mote Charger Station destroying the rechargeable battery packs found on Wii controllers. In some cases, the pack had actually melted into the rest of the plastic, creating much more than just a defective product situation.
While most companies surely (or at least, we hope) would take the responsible route and issue a recall for their product, citing that it is essentially a fire hazard and can actually cause physical harm to the user, Psyclone appears to be taking a hands-off approach to the situation. The long-winded warning message that appears on their official website reads:
WARNING - Rechargeable batteries left unattended in the recharge unit for an extended period of time may cause the batteries and/or unit to overheat. If the Wii (TM) remote doesn't charge properly or begins to heat up, please stop the charge process and contact our customer service line to prevent further damage. If you feel that your batteries are heating up, please do not use those batteries any more. We are happy to help you and replace your product: Psyclone Customer Service #1-800-315-0795.
For further proof of Psyclone Essentials' sub-par craftsmanship, click the link (opens in new tab) to read over Amazon's overwhelmingly negative user reviews regarding 'dead remotes' and 'burn-outs'. The Psyclone Essentials Charger Station is currently still being sold at many big name retailers, including Circuit City and Target.
Your Daily Blend of Entertainment News