Ragnarok Odyssey ACE Screenshots Shows Off Tower Of Yggdrasil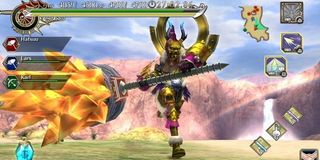 Gamers on the go are just about set to return to some familiar battlefields with Ragnarok Odyssey ACE, an updated version of the four-player dungeon-crawler for the Vita, offering new controls, new gear, new enemies and, of course, all new dungeons to explore. The latest of these new stomping grounds, Tower of Yggdrasil, is now being shown off in a bunch of new screenshots, too.
A little over a year ago, Ragnarok Odyssey arrived on the PlayStation Vita, offering players a focused dose of brawling entertainment with a big focus on partying up and killing monsters with friends new and old. All business is conducted from within a single hub city, where players could easily change their outfits and gear, buy new equipment, take on missions, collect stat-boosting cards and hang out in a pub where they could meet and team up with other players before heading out into the wilderness.
Unlike many RPGs of late, Ragnarok Odyssey was all about bright colors, fast action and respecting the player's time, keeping everything streamlined to focus on upgrading and combat, and even going so far as to let players easily change between the game's multiple playable classes without having to build a new character from scratch.
In early 2014, XSEED Games and Marvelous will be publishing Game Arts and Gung Ho's newest version of the game, Ragnarok Odyssey ACE and, to prepare, they're showing off a whole bunch of new screenshots displaying a brand new region for everyone to explore.
"These new screens show off the Tower of Yggdrasil, an enormous all-new dungeon where floors are randomized and players will be challenged with taking down bosses from the original Ragnarok Odyssey, as well as all-new villains," reads the press release from XSEED. "The Tower also features a brand new NPC, Norn, who will provide various kinds of assistance to players at certain points.
More than just a few new areas to explore and enemies to kill, ACE looks to enhance every aspect of the core gameplay, including a new "Ace Skill" system for more diversity in combat, which allows players to pull off especially powerful moves when certain requirements have been met.
And since adventuring alone is never as much fun as adventuring with someone at your side, new AI mercenaries have also been added to the game, meaning players can still try to tackle the especially hard levels when they're not near an internet connection.
Even better is the fact that your character and unlocks from the first game can be transferred over to the new game, and any DLC you purchased for the original game can also be re-downloaded into ACE. Look for it on the PS Vita in early 2014.
Image 1 of 7