Rainbow Six Siege Season Pass Gives You Early DLC Access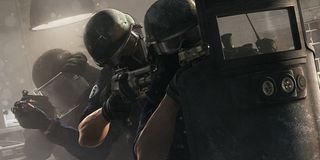 Tom Clancy's Rainbow Six Siege is a modern shooter, so you better believe that it's going to have a season pass full of post-launch DLC. We've got some details on the current plans for all of that extra content, including early access to various bits of content.
At present Rainbow Six Siege has a full year's worth of DLC set to follow its Dec. 1 launch. If you were already excited for the core game, then maybe these details on the next 12 months' worth of additional content will put you over the moon.
It looks like Siege is taking the Destiny approach, labeling the umbrella under which its current season pass resides as "Year One." If the game is still rolling strong by next Christmas, maybe we'll hear plans for Year Two content, too. For now, though, you've got the full game to look forward to, as well as the usual array of new maps, modes, weapons and the like.
According to the trailer, the Rainbow Six Siege season pass includes, among other bits and baubles, a day-one bundle of guns and cosmetics, eight post-launch operators, an undisclosed number of new maps and challenges, as well as "tournaments and more." I'm not sure why anyone would want to lock something like tournaments behind a DLC season pass but, unless I'm misunderstanding, that appears to be the case with Siege. There's also that added bonus of getting early access to content before the riff-raff gets to enjoy it.
It's also confusing that the trailer ends with a promise of "free maps" in order to keep the community from being divided, so I'm not sure how those maps differ from the ones that are part of the season pass. That's kind of par for the course, though, as you never really know what you're getting when you fork over additional funds for a season pass.
Coming in at $29.99, whether or not the Siege season pass is worth half of the regular game is, of course, entirely up to you. Most other shooters get most of that value out of lots of new maps or story missions, but Siege's perks almost feel more like what you would expect out of a paid subscription to a free-to-play MMO. You'll get additional daily challenges, additional skins, in-game credit to spend on more skins, stat boosts and the like.
Good news for folks who decided to shell out a bit more for the Gold Edition of the game: The season pass is already included in your purchase.
I'm definitely a fan of finding a way to make additional maps available to everyone so that the community doesn't get splintered, but I'm not sure if the solution is charging money for what doesn't appear to amount to a whole lot. Then again, that's just a knee-jerk reaction with little information to base it off of. I say we give Siege some time to shine and then decide if its season pass model is an improvement over the norm.
Staff Writer for CinemaBlend.
Your Daily Blend of Entertainment News
Thank you for signing up to CinemaBlend. You will receive a verification email shortly.
There was a problem. Please refresh the page and try again.