Red Faction: Armageddon Take On Me Trailer Introduces Sketch Mode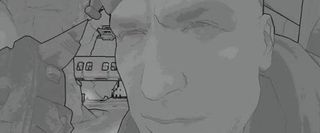 Volition announced details on Red Faction: Armageddon's Sketch Mode today. It might be a relatively minor feature but it inspired a pretty amusing trailer.
"One of the game's unlockable visual modes, Sketch Mode redefines 'comic mischief,'" said Volition. "More than a fun way to play, Sketch Mode showcases our GeoMod 2.0 destruction engine in a whole new light, as entire colony buildings and towers come crashing down on your enemies in black and white."
Volition demonstrates the Sketch Mode with a trailer set to A-Ha's "Take On Me." It's a very cheesy 80's song that had a similar music video. Go dig up that video so you can get the joke. I'd do it but, you know, lawyers.
Red Faction: Armageddon will debut on June 7th in North America.
Staff Writer at CinemaBlend.
Your Daily Blend of Entertainment News
Thank you for signing up to CinemaBlend. You will receive a verification email shortly.
There was a problem. Please refresh the page and try again.