Resident Evil 6 PC Pre-Order Gives You DLC Season Pass, Free Resident Evil 5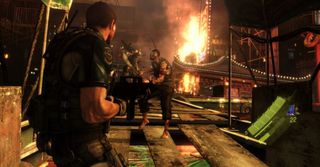 Capcom is throwing several bonuses at PC gamers to convince them to pre-order Resident Evil 6. On Friday, the company announced that anyone who reserves the game through Steam will get the DLC Season Pass for no additional charge.
The Season Pass will give players access to four multiplayer modes. In Predator, one player takes on the role of a Ustanak and hunts down everyone else. Survivors mode has one team of monsters trying to kill a team of humans. Each slain human player respawns as a monster. Onslaught is a head-to-head mode, in which two players individually fight off waves of enemies while trying to outlast their opponent. The fourth and final mode, Siege, tasks one team with killing BSAA rookies and the other team with defending them.
There are two other tiers of pre-order bonuses on Steam. One is a free copy of Resident Evil 5. If you already have the game, you can give the extra copy to a friend. Territories without Games for Windows Live will get Devil May Cry 4 instead.
The last tier of bonuses consists of the game's soundtrack and an art book. The art book shows off the various creatures that Capcom devised for the game. Both the art book and soundtrack will be delivered in digital form.
RE6 will be released on March 22nd for $39.99.
Staff Writer at CinemaBlend.
Your Daily Blend of Entertainment News
Thank you for signing up to CinemaBlend. You will receive a verification email shortly.
There was a problem. Please refresh the page and try again.