Resistance 3 Pre-Order Unlocks Air Fuel Grenades, Nathan Hale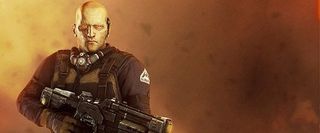 Retailers across North America are now trying to woo Resistance fans. They're each offering a different bonus to players who pre-order Resistance 3.
GameStop pre-order customers will get a replica of a Chimeran teeth necklace. It's the same necklace that Joseph Capella wears in Resistance 3. GameStop will also give you a multiplayer booster back so you start at Level 5 in online play.
Wal-Mart, meanwhile, is offering a set of five custom name titles for multiplayer. One of the titles is Sentinel. The set is exclusive to this pre-order offer.
Players who pre-order through Amazon will get something more practical: a grenade. More specifically, the No. 60 Air Fuel Grenade, which sprays a cloud of flammable vapor and then explodes. You'll be able to use this popular weapon in the single-player campaign of R3.
Best Buy unlocks the Infected Nathan Hale multiplayer skin. It's based off Hale's appearance at the end of Resistance 2's campaign. Also included in Best Buy's offering is an exclusive taunt ability.
Players who live in Canada or pre-order the game through other retailers in the U.S. will receive a Black Ops multiplayer skin.
Image 1 of 3