Rock Band Gets Portal Tune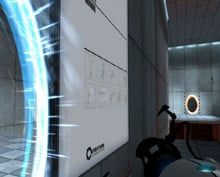 Portal's highly quotable protagonist, GLaDOS, is coming to Rock Band. The end credits song performed by the rogue A.I., "Still Alive" will be a downloadable for free in April.
The song will be available on the Xbox 360 on April 1st and the PS3 on April 17th. In case you're wondering, the release dates are different because the Playstation Store is currently undergoing much-needed renovations and won't get new content for two weeks.
If you haven't played Portal yet, I'm not sure how much you'd enjoy performing "Still Alive." In fact, you might not want to download the song if you're planning on buying Portal as it contains a few spoilers. Nonetheless, a song featuring a female A.I. crooning about cake and science with ukulele accompaniment is an interesting addition to the Rock Band catalog.
Staff Writer at CinemaBlend.
Your Daily Blend of Entertainment News
Thank you for signing up to CinemaBlend. You will receive a verification email shortly.
There was a problem. Please refresh the page and try again.