Rumor: Guitar Hero 5, Van Halen, Band Hero, DJ Hero Coming In 2009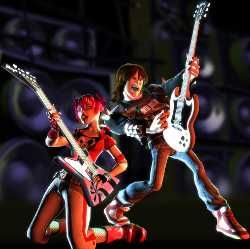 Guitar Hero games make a lot of money, right? So how do you make more more money? Make an ass-ton of Guitar Hero games!
A source close to Activision has told Eurogamer that Hard Rock Van Halen, Guitar Hero 5 (working title) , DJ Hero and Band Hero will all be released in 2009. Oh, and there's also another unannnounced DS Guitar Hero on the way. This is all in addition to the games previously announced for this year: Guitar Hero: Greatest Hits, Guitar Hero: Metallica, and Guitar Hero: Modern Hits.
Assuming this is all true, Activision probably wants to announce these projects at a slower pace than Eurogamer did. They gave the usual "we don't comment on rumors" line so there's no way of sorting out the bull from the truth yet. Even if one of those rumored 2009 releases ends up being real, though, that's pretty big news...I guess. With all these damn Guitar Hero games flying around, it sort of cheapens the effect.
Staff Writer at CinemaBlend.
Your Daily Blend of Entertainment News
Thank you for signing up to CinemaBlend. You will receive a verification email shortly.
There was a problem. Please refresh the page and try again.