Rumor: New PS3 Model On The Way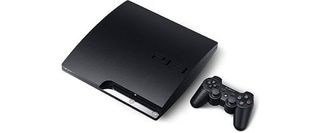 Is the PS3 Slim about to get slimmer? A Japanese retailer claims that they were just briefed on a new model of the PS3 that will be more lightweight.
The report, translated by Andriasang says that this new "CECH-3000B" model is an updated version of the 320GB model. It consumes 200W instead of 230 and weighs 2.6kg instead of 3kg. The power and eject buttons look different as well.
The price of the new model is said to be the same. It will be shipped to stores once the current stock of the "old" model runs out. That sort of strategy makes it hard to pin down an exact release, date, though.
Sony, for their part, has yet to officially announce anything. I'd imagine this is legit, though. Seems a bit too boring to be faked. A hoax story would claim that the new console is the size of a cell phone, ships a demo for Metal Gear Solid 6 and when you scratch the casing you can smell Nathan Drake's after-shave.
Staff Writer at CinemaBlend.
Your Daily Blend of Entertainment News
Thank you for signing up to CinemaBlend. You will receive a verification email shortly.
There was a problem. Please refresh the page and try again.