Sacred 2: Ice And Blood Add-On Not For North Americans, Mexicans Or Canadians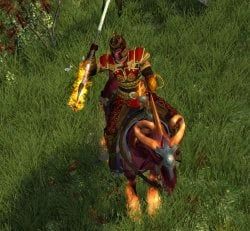 So if you happen to have heard of a popular but not very mainstream action-RPG that goes by the name of Sacred 2, there is a new add-on for the game coming this fall. The add-on is only for the PC version (yep, this time 360 and PS3 owners both get spurned) and it's also not for the USA, Canada, Mexico or Russia.
Georg Larch, International Marketing Director Koch Media, commented in the press release, saying…
Well, that pretty much clears it up…wait, no, it doesn't. All we know is that Deep Silver and Koch Media are distributing the add-on worldwide (and made available via digital download) but not for the above-mentioned territories. I'm not sure if there is a press release set for a later date that will inform the community of this add-on being made available to the other territories, but it would be weird if some of the larger gaming markets were excluded of this add-on.
The add-on Ice and Blood will be available for the PC version of Sacred 2 in the fall of 2009. You can visit the Official Sacred 2 Website for more info on the game or stay tuned in with Blend Games for further news, media and insight regarding all things gaming.
Image 1 of 10
Image 2 of 10
Image 3 of 10
Image 4 of 10
Image 5 of 10
Image 6 of 10
Image 7 of 10
Image 8 of 10
Image 9 of 10
Image 10 of 10
Staff Writer at CinemaBlend.
Your Daily Blend of Entertainment News
Thank you for signing up to CinemaBlend. You will receive a verification email shortly.
There was a problem. Please refresh the page and try again.