Saints Row 4 Collector's Edition Won't Include Purple Dildo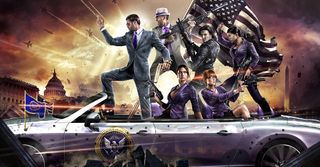 Are you planning to buy the Collector's Edition of Saints Row 4? If so, publisher Deep Silver wants your help. They're letting gamers determine the contents of the bundle through a survey.
Saints Row 4 begins with the leader of the Third Street Saints being elected president. As such, many of the possible CE extras have a presidential theme. Examples include campaign gear, a presidential briefcase with a "kinky handcuff," or a presidential coin.
The rest of the possible extras are a diverse lot. Standard CE staples like an artbook and world map are up for a vote, as are more bizarre offerings like a voice augmentation device and a dubstep doomsday button. Surprisingly, a giant purple dildo isn't one of the options. Here's the full list of options that you can rank from 1 to 5 on the survey:
Saints Row T-shirt - "Department of Homeland Saintcurity"
Saints2013 Presidential campaign gear (Pins, hats, Saint Car Flags)
Voice augmentation device / auto-tune device
Pierce, Shaundi, or other Saint Figurine
Presidential Briefcase with kinky handcuff and key
Dubstep Doomsday Button
Functional (not deadly!) in-game weapon replica
Johnny Gat Memorial Statue
Saint's Bazooka themed Poster Tube
"Eagle Jet" RC Helicopter
Tie and Tie Bar, Money Clip
Sealed Classified Book with Artwork (Concept Artbook)
Steelbook
Whitehouse "Security" download card
President Seal and/or Coin
Cloth World Map
Saint Belt Buckle
Wood Cigar box
Ridiculously amazing glass display case with lights?
Deep Silver previously let fan votes on the contents of Dead Island Riptide's Rigor Mortis Edition. I'm surprised publishers don't release surveys like this on a regular basis. It could spare them the embarrassment of trying to sell a collector's edition no one wants, like a bundle with a bloody set of rubber boobs.
SR4 will be out in August. To vote on the SR4 Collector's Edition, head to KwikSurveys.
Staff Writer at CinemaBlend.
Your Daily Blend of Entertainment News
Thank you for signing up to CinemaBlend. You will receive a verification email shortly.
There was a problem. Please refresh the page and try again.