Second NeverDead DLC Announced, First DLC Now Available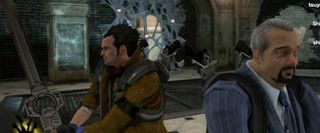 If you just bought the first pack of DLC for NeverDead, don't worry about blazing through it too quickly because a second set of DLC will be available next week on February 29th. So you'll have some extra content to experience once you finish the first DLC pack.
Konami announced today that NeverDead, the third-person action-horror title for the Xbox 360 and PS3, will continue to receive a buffet of downloadable content to keep the masses playing, and playing and playing especially with the first challenge expansion now being available after it was announced a few weeks ago. And who doesn't like to keep playing their favorite game?
The first DLC pack contains extra costumes for the characters, a new playable character in the multiplayer mode as well as an expanded level for the Asylum. The second DLC pack contains two additional costumes for the main character Bryce Boltzmann, as well as a new playable character, NADA Chief Sullivan, three new challenge levels and an expanded Sewer level.
You can pick up the first expansion pack for NeverDead right now for the Xbox 360 or PS3 for $5.00 or 320 MS Points. The second expansion pack will be available next week on both digital networks for the same price. You can pick up NeverDead right now for either console for only $59.99. For more info be sure to pay a visit to the Official Website.
Your Daily Blend of Entertainment News
Staff Writer at CinemaBlend.
Your Daily Blend of Entertainment News
Thank you for signing up to CinemaBlend. You will receive a verification email shortly.
There was a problem. Please refresh the page and try again.