See The Simpsons Become Minecraft Characters In These Screenshots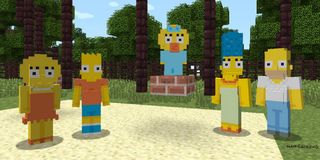 4J Studios is teaming up with Fox to bring The Simpsons into Minecraft. Today they released the first screenshots from the Simpsons DLC coming soon to the building game.
"We have an active community of more than 17 million die-hard Minecrafters on Xbox Live enjoying the wide range of downloadable content on Xbox, and they have been clamoring for us to bring Simpsons characters to the game," said (opens in new tab) Phil Spencer, head of Xbox at Microsoft. "We are thrilled to partner with Twentieth Century Fox and Gracie Films to bring The Simpsons to life on Minecraft Xbox 360 and Xbox One editions. I can't wait to see what the community creates."
The creators of the television show (unintentionally?) teased this collaboration back in April, when one of their episodes had a Minecraft-themed couch gag:
The Simpsons DLC includes skins of the full Simpsons family along with 19 other characters. They didn't mention who the other characters would be. I'm personally hoping for Bumblebee Man, though.
Minecraft's Xbox One and Xbox 360 editions will receive The Simpsons DLC in late February for $1.99. Today's announcement asks gamers to "stay tuned" for release information on other platforms. I'm not surprised Microsoft would make the content available for their consoles first. After all, they paid through the nose to buy the Minecraft franchise.
If you own the PC and Mac version of Minecraft, you can already get The Simpsons in your game. The community's has built free mods that let players venture into virtual Springfield. Here's some footage of those mods in action
Minecraft
's console versions have received many licensed DLC packs since launch. These add-ons have been based on Doctor Who, The Avengers and other popular franchises.
Image 1 of 3