Silver Xbox One Looks Fantastic, Here's How To Get It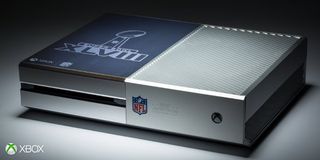 The Xbox One is now available in a new color. The silver model, featuring the logos of the NFL and Super Bowl XLVIII, won't be available in stores unfortunately.
I was hoping the Super Bowl XLVIII console would also be adorned with a picture of Peyton Manning frowning but alas. Nonetheless, the silver finish does look great on the console. Maybe not as good as the white Xbox One, but still great.
The silver Xbox One is the prize in a raffle held by the Brees Dream Foundation, the charity started by New Orleans Saint quarterback Drew Brees. Brees will autograph the console. He'll also host a 90-minute dinner celebration for the winners and eleven guests on April 29th. If the winner lives outside the continental United States, they'll get a $2,000 cash prize instead of the dinner. The prize package also includes a copy of Madden NFL 25 for Xbox One.
You won't have to worry about getting slammed on your taxes, either. The Brees Dream Foundation will pay $3,325 to the IRS and Commonwealth of Massachusetts to offset the liability from the prizes.
The picture of the silver Xbox One says that it's one of 50 being produced. That makes this model an extremely desirable collector's item. It's unclear how the other 49 will be released. Presumably they'll be offered through other charity events.
Tickets for the raffle cost $2 apiece. You'll have to purchase a minimum of five tickets, though. You can place you order at Netraffle.org. You have until 11 AM Eastern on April 25th to buy your tickets. The drawing will be held later that day.
The Brees Dream Foundation was established by Drew and his wife Brittany in 2003. The foundation's purpose, according to its website, is "to improve the quality of life for cancer patients, and provide care, education and opportunities for children and families in need." The Brees family and their Foundation have contributed over $20 million to date.
Stores only offer black Xbox One consoles at the present time. Microsoft produced a white model that they gave to members of the Xbox team. The only way you can get one is by paying through the nose on eBay. The Titanfall development team at Respawn Entertainment likewise received special orange, black and white consoles.
There's still plenty of time for Microsoft to release different models of the XB1 to the public, though. We're only five months into the life of the console. They didn't offer a second color for the Xbox 360 until two years after its launch. If you don't want to wait that long, though, you could always buy a case skin from a third-party company, though.
Your Daily Blend of Entertainment News
Staff Writer at CinemaBlend.