Titanfall-Themed Xbox One Console Is Real And You Can't Buy It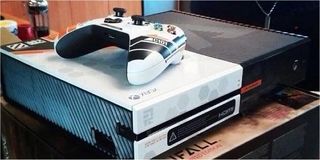 One of the big things that went loose in the leak on Neogaf regarding the roadmap of software, updates, patches and content for the Xbox One was a Titanfall-themed livery for the Xbox One. The livery was supposed to be attached to the boxed bundle that's currently being made available for the launch of Titanfall. Microsoft also pursued legal action against the leaker, but it's pretty much confirmed now that everything the guy rolled out in the roadmap was legit.
Turns out, the Titanfall livery for the Xbox One is real, just like the bundle, but you won't be able to buy it.
Previously, the leaker on Neogaf mentioned that the Xbox One would be bundled with Titanfall and that the console would come with a special Titanfall livery. You can check out how it was supposed to look in the boxed bundle right here.
Well, The Verge did some digging and OXM caught wind of a piece noting that yes, indeed, the Neogaf leaker was correct and there was (or is) a Titanfall Xbox One livery... but it's only being made available to Respawn Entertainment staff.
This is very similar to that all-white Xbox One livery that was only made available to Miccrosoft employees. However, very much like the all-white Xbox One, it eventually found its way into the good graces of Microsoft's marketing department to become available for consumer purchase. It's likely that if Titanfall hits the predicted sales margin set forth by respected industry analysts, that we could see Microsoft try to leverage on the sales-hype by re-releasing the Titanfall bundle with the game's livery sprayed all across the Xbox One like a dog in heat laying down the territorial standards in their neck of the woods.
The only thing left now is for Titanfall to be the killer-app that the Xbox One needs, even if it isn't the one it deserves.
We'll find out just how well the console and the game will fare next week when Titanfall launches coming off this weekend on March 11th. There's a lot riding on the success of Call of Duty + Mechs, and if the game does half as well as Microsoft hopes then it might mean that gamers could eventually get their hands on that Titanfall-themed livery for the $500 TV-on-your-TV box.
You can learn more about the game by paying a visit to the official Titanfall website. Also be sure to check out the latest launch trailer for the game. Let's hope that the game is enough to keep the Xbox One in the running until May 30th rolls around.
Your Daily Blend of Entertainment News
Staff Writer at CinemaBlend.