Siren Joins PS2 Classics On PlayStation Network Next Week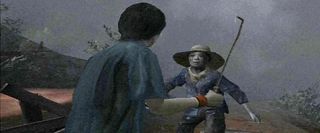 Fans of survival horror will have something to scream about next week as the PlayStation 2 classic scarefest, Siren makes its way to the PlayStation Network.
Announced through the PlayStation Blog, Siren will be joining the PlayStation 2 Classics collection next Tuesday, Jan. 15.
Siren originally hit the scene in 2003, giving players the chance to explore about a dozen locations within the haunted town of Hanuda. Taking control of multiple characters, one of the game's distinguishing characteristics, aside from the pee-your-pants level of mounting terror, was the ability to "sightjack" and temporarily view the world from the perspective of enemies. For those who felt Resident Evil and Silent Hill had already gone off of the rails, Siren was welcome fright for fans of the horror genre.
A reimagining of the original game, Siren: Blood Curse, is available on the PlayStation Network now as an episodic download. But for those who would like to see where the whole shebang first took root, you don't have much longer to wait for the PS2's Siren to become available. No word yet on pricing, but most PS2 downloads go for about 10 bucks.
Aside from the awesome news that Siren is going to be made available next week, the above linked PS Blog post also has some wonderful insight from former Executive Producer and VP at WWS Japan Studio, Takafumi Fujisawa. Fujisawa-san discusses Siren's origins, the series' original success and expansion to other mediums, and how excited he is to see the original game being added to PSN. For fans of the Siren series or the survival horror genre in general, it's definitely worth a read.
Staff Writer for CinemaBlend.
Your Daily Blend of Entertainment News
Thank you for signing up to CinemaBlend. You will receive a verification email shortly.
There was a problem. Please refresh the page and try again.