Skyrim Patch 1.8 Arrives On Xbox 360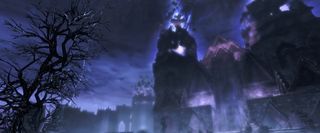 Bethesda updated the Xbox 360 version of open-world Elder Scrolls V: Skyrim. 360 players can now download the English version of Patch 1.8 through Xbox Live to make their adventures through the frozen North a bit smoother.
Update 1.8 doesn't provide any new content to the game. Instead, it fixes a variety of bugs. Arnleif and Sons Trading Company will no longer permanently lock and NPCs will no longer be duplicated. Rare issues regarding vampiric grip and exterior doors have also been corrected. Rounding out the patch are a number of unspecified "memory and stability improvements."
The PC version of Skyrim already received Update 1.8. PS3 owners and non-English Xbox 360 owners haven't, though. Bethesda hasn't said when those users will get this patch.
Although this patch doesn't add any new content, players will soon receive more in the form of a new DLC pack. Dragonborn will whisk players away to the island of Solstheim, located between the provinces of Skyrim and Morrowind. During this adventure they'll face off against the very first Dragonborn along with a host of other new enemies.
If you've somehow managed not to play Skyrim, you really ought to. Few games can so effectively turn you into a sleep-deprived werewolf.
Staff Writer at CinemaBlend.
Your Daily Blend of Entertainment News
Thank you for signing up to CinemaBlend. You will receive a verification email shortly.
There was a problem. Please refresh the page and try again.