Sleeping Dogs Screenshots Showcase Custom Tuned Cars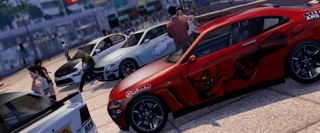 Leading up to the official worldwide release of Sleeping Dogs later this month, Square Enix has ponied up some new in-game screenshots of the open-world action title, showing off the game's custom tuned cars, some snazzy clothing options for the main character and plenty of explosions to keep you entertained.
I'm thinking Sleeping Dogs really might be the sleeper hit of the summer if United Front Games can ensure that the actual gameplay is as solid as it appears in all the video walkthroughs. The fighting looks pretty solid, the shooting mechanics look pretty solid and the driving looks to be rather solid. What does that mean? Well, a bunch of solid features in an open-world game means it might be a solid game, assuming Scarface: The World is Yours and Godfather: The Game are anything to go by.
We don't get open-world games or GTA clones all that often, so they're usually welcome whenever they do make an appearance and so far Sleeping Dogs looks like a pretty good clone. The clothing options seem to be rather steep; I had no idea there were custom tuned cars in the game, I used to spend hours in Saints Row 2 and GTA: San Andreas customizing various vehicles and then taking them to the races. Those kind of options sort of create games within games. That's not to mention that the investigation meta-game is also an equally neat concept.
So far, Sleeping Dogs just might be one of the few games that was underpromoted, again, this is assuming that the actual gameplay from start to finish is actually solid, unlike a certain other True Crimes: New York, which was riddled with game breaking glitches.
You can check out the new screenshots for Sleeping Dogs below, courtesy of Dual Shockers, or pay a visit to the Official Website. The game is set for release next Tuesday for the Xbox 360, PS3 and PC.
Staff Writer at CinemaBlend.
Your Daily Blend of Entertainment News
Thank you for signing up to CinemaBlend. You will receive a verification email shortly.
There was a problem. Please refresh the page and try again.