Smackdown Vs Raw 2011: WWE Universe Mode Walkthrough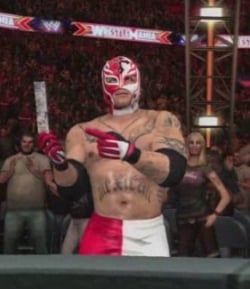 Dan Ryan, the game designer for the upcoming Smackdown Vs Raw 2011, gives gamers a brief walkthrough of the new WWE Universe mode. So what is it and how does it work? Well, the Universe mode is a bit difficult to describe but it's more like an organic difficulty, story-mode, and competition balance organizer for the player.
The WWE Universe mode can be turned on or off at the player's whim when not in a match, and it will dynamically adjust the game in ways that can only be described as fascinating and truly unique. It's definitely a different take on the whole WWE 24/7 mode that was introduced a few years ago for the series.
You can check out the walkthrough of the mode and some details on a few other features as well in the new video. WWE Smackdown Vs Raw 2011 is due out this October for major game consoles and handheld systems. You can learn more about it by dropping by the Official Website.
Staff Writer at CinemaBlend.
Your Daily Blend of Entertainment News
Thank you for signing up to CinemaBlend. You will receive a verification email shortly.
There was a problem. Please refresh the page and try again.