Sonic Generations: Modern Era Stages Showcased In New Trailer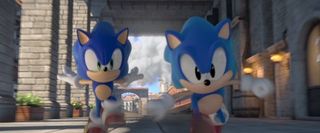 There are three different eras of the Sonic universe that will be explored in the upcoming platforming adventure game, Sonic Generations. While Sega has already released two trailers featuring the classic era and the Dreamcast era, the newest trailer for the game covers re-imagined stages from the modern era of Sonic games.
Whether you liked or hated the 3D stages from the newer games in the Sonic franchise, Sega is giving gamers the option to play those stages in new ways, or rather, in a classic way with a 2D option. You can check out a few of the stages from games like Sonic Colors and Sonic Unleashed in both their 3D and 2D renditions.
I know we as gamers have been bombarded with a lot of sequels and rehashes lately, but there are still a few good games we can look forward to and without a shadow of a doubt Sonic Generations definitely looks like one of the few games worth purchasing this fall. The fun factors look like they are off the charts. And while I'm still a bit reserved on how the 3D perspective will be handled, most of the gameplay trailers seem to show it off as if the controls are tighter and the camera is more balanced, which is definitely going to be an improvement over past 3D Sonic games.
You can look for Sonic Generations to land on shelves for the Nintendo 3DS, Xbox 360 and PS3 come November. For more information on the game be sure to visit the Official Website.
Staff Writer at CinemaBlend.
Your Daily Blend of Entertainment News
Thank you for signing up to CinemaBlend. You will receive a verification email shortly.
There was a problem. Please refresh the page and try again.