Sony Announces Their E3 2014 Plans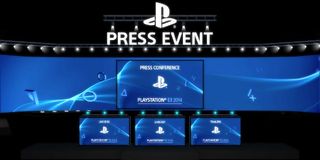 Sony will be bringing dozens of PS4, PS3 and PS Vita games to E3 2014 this week. Rather than keep their plans top secret, the company provided their E3 lineup to gamers.
The PlayStation E3 2014 Press Conference will kick off on June 9th at 6 PM Pacific, or 9 PM Eastern. During the presser, Sony will show off many upcoming games like The Order: 1886 and Driveclub. They'll also have a surprise or two to share. The press conference can be watched on PlayStation.Blog, PlayStation.com or Ustream. If you tune in 15 minutes early, you can watch a brief pre-show.
Throughout the week, the PlayStation.Blog crew will be holding livestreams from E3. They'll show off demos, developer interviews and trailers during their broadcasts. This is the schedule for their streams:
Tuesday: 12:00pm to 6pm PT
Wednesday: 10am to 4:00pm PT
Thursday: 10am to 2:00pm PT
PS4 owners in the United States can follow the action at the convention by downloading the E3 2014 app. This app will allow you to watch the press conference live. Once the show floor opens up on the 10th, you can check out screenshots and trailers from games at the show. This app also lets you earn exclusive rewards.
"To start, there are gold and silver challenges you can complete in the app that will grant you up to 250 Sony Rewards points – these points will be available to unlock until June 24th," said Sony's Kristine Steimer. "You can get other goodies through the app too, including an Amazon Prime 30-day trial and a Music Unlimited 30-day trial. For the early birds out there, during the show we'll have 6,000 invites per day for the PlayStation Now Private Beta on PS4, starting June 10th at 12pm PDT. Make sure to log in early to secure your invite!"
Sony's booth on the E3 2014 showfloor will have a wide range of titles. Some are exclusive and some are multi-platform. This list doesn't include whatever mystery games they're going to unveil during the press conference but there are still plenty of titles worth being excited about.
Alien Isolation - PS4
Aaru's Awakening - PS3
Akiba's Trip Undead & Undressed - PS Vita
Apotheon - PS4
Assault Android Cactus - PS4
Axiom Verge - PS4
Big Fest - PS Vita
The Binding of Issac: Rebirth - PS4
Chasm - PS4
CounterSpy - PS4/PS3/PS Vita
Danganronpa 2 - PS Vita
Destiny - PS4
Diablo III: The Ultimate Evil Edition - PS4
Disgaea 4 - PS Vita
Disney Infinity 2.0: Marvel Super Heroes - PS4
Don't Starve - PS Vita
DRIVECLUB - PS4
Dynasty Warriors: Gundam Reborn - PS3
EarthNight - PS4
FlyHunter: Origins - PS Vita
Freedom Wars - PS Vita
GALAK-Z: The Dimensional - PS4
Gravity Crash Ultra - PS Vita
Guilty Gear Xrd - PS4
Hatsune Miku: Project DIVA F 2nd - PS Vita
Gunship X - PS Vita
Helldivers - PS4/PS3
Hohokum - PS4/PS3
Home - PS Vita
Hotline Miami 2: Wrong Number - PS Vita
Hyper Light Drifter - PS Vita
Invizimals: The Alliance - PS Vita
Jamestown Plus - PS4
Killzone Shadow Fall Intercept - PS4
Kingdom Hearts HD 2.5 Remix - PS3
Legend of Raven - PS Vita
LEGO Batman 3: Beyond Gotham - PS4
MechRunner - PS Vita
Metrico - PS Vita
MLB 14 The Show - PS4, PS Vita
Murasaki Baby - PS Vita
N++ - PS4
Nidhogg - PS4
Night in the Woods - PS4
Nuclear Throne - PS4
Oddworld: New 'n' Tasty - PS4
One Way Trip - PS Vita
Persona 4: Arena Ultimax - PS3
PS Vita Pets - PS Vita
PixelJunk Shooter Ultimate - PS Vita
Planetside 2 - PS4
Plants vs. Zombies: Garden Warfare - PS4
Project CARS - PS4
Race the Sun - PS Vita
Reaper - PS Vita
Road Not Taken - PS4
Rogue Legacy - PS Vita
Samurai Warriors 4 - PS4
Secret Ponchos - PS4
Shadow Warrior - PS4
Source - PS4
Starwhal: Just the Tip - PS3
Super Exploding Zoo - PS Vita
Switch Galaxy Ultra - PS Vita
Tales of Xillia 2 - PS3
Teslagrad - PS3
The Crew - PS4
The Golf Club - PS4
The Order: 1886 - PS4
The Swapper - PS3
To Leave - PS Vita
EA Sports UFC - PS4
Valiant Hearts - PS4
Velocity 2X - PS4
Zen Pinball 2: The Walking Dead Table Pack - PS3
Staff Writer at CinemaBlend.
Your Daily Blend of Entertainment News
Thank you for signing up to CinemaBlend. You will receive a verification email shortly.
There was a problem. Please refresh the page and try again.