A Soundtrack To SKATE Or Die For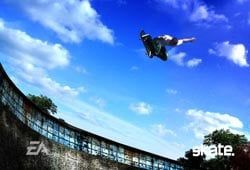 The best sounds this year aren't at the Van's Warped Tour or the Sounds of the Underground. Well, the best lives one anyway. If you want to see a good show then, yeah, a video game really can't compare. But! If you want to hear the best sounds on any video game before the year is out, then get yourself a copy of EA's XBOX 360/PS3 skater-simulator SKATE.
SKATE--offering a new way for players to smash their teeth via a new, promising control scheme--features a mix of classic punk rock and its modern-day counterparts along with a healthy dash of metal. (Emphasis on "dash" because if punk fans heard any more than that, they might beat themselves into a coma with their own checkerboard-colored Vans, for they would realize all the time spent listening to anything but metal was time that they might as well have spent being dead. Grim, but such is truth.)
And, while it's uncertain if EA will successfully grab Tony Hawk's crown with this effort, the list of artists featured on SKATE makes it sound like the battle's already over. While Project 8 had Bad Religion, Joy Division, Nine Inch Nails, The Sword, and their own Ramones song, the production crew made one fatal mistake: they had a Kool and the Gang song, but it wasn't "Celebrate Good Times." I've never not ironically used this acronym before but, really, WTF?!
Overall, the SKATE soundtrack promises to soften every bail while making every jump feel that much more intense--even when you're just hopping off a picnic table, you poser.
For a trailer and description of how the controls are supposed to work, Check out our coverage of the game here.
Swipe to scroll horizontally
| | |
| --- | --- |
| ARTIST | SONG |
| Agent Orange | No Such Thing |
| Airbourne | Let's Ride |
| Bad Brains | I Against I |
| Band of Horses | The Funeral |
| Beat Beat Beat | Sinking Slow |
| Black Flag | Six Pack |
| Booker T & The MG's | Green Onions |
| Challenger | Input the Output |
| Cheap Trick | Surrender |
| Children of Bodom | Hate Crew Deathroll |
| David Bowie | Queen Bitch |
| Dead Prez | Hip Hop |
| Devo | Gut Feeling/Slap Your Mammy |
| Eddie Rap Life | Push Your Wood |
| Eric B & Rakim | Juice (Know the Ledge) |
| Escalera | Go It Alone |
| Filthy Thieving Bastards | ...Lords Of The Avenues |
| Gang Starr | Now You're Mine |
| H.I.T | Drama |
| Mac Mall | Perfect Poison |
| Motorhead | We Are Motorhead |
| Nivarna | Lounge Act |
| N.W.A | Express Yourself |
| Renee Renee | Stand Up Talk Easy |
| Rick James | Give It To Me Baby |
| Rick Ross | Hustlin' |
| River City Tanlines | Black Knight |
| S.T.R.E.E.T.S | Georgia St. |
| Sicker Than Others | Face Away |
| Sister Nancy | Bam Bam |
| Slayer | Raining Blood |
| The Briefs | Poor and Weird |
| The Coup | Ride the Fence |
| The Dwarves | Massacre |
| The Exploding Hearts | Your Shadow |
| The Falcon | Blackout |
| The Mag Seven | Dick Cemetery |
| The Ramones | Psycho Therapy |
| The Returnables | Teenage Imposters |
| The Sex Pistols | Pretty Vacant |
| The Stars Misplaced | Prophets And Kings |
| The White Stripes | Girl, You Have No Faith In Medicine |
| Trouble Andrew | Chase Money |
| Valient Thorr | Man Behind The Curtain |
| ZZ Top | Just Got Paid |
Your Daily Blend of Entertainment News